Globe & Mail: Luxury built for buyers
If Toronto is the centre of the universe, then the Freed development at Avenue and Davenport is the centre of Toronto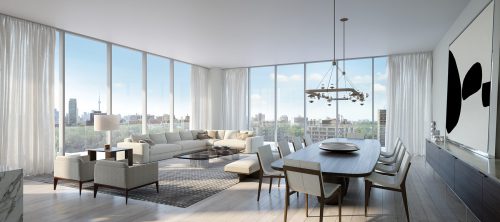 Toronto has the reputation as being the centre of the universe and 346 Davenport by Freed takes it to heart. Located at Davenport and Avenue, the mid-rise luxury condo has a report card that would tempt anyone to put down roots in the neighbourhood.
"Our approach is founded on design-based development," says company president Peter Freed. "With the end user in mind, we have consistently raised the bar for architecture and design, delivering residential projects in which people are proud to live."
That's one of the reasons Mr. Freed decided to build 346 Davenport. He grew up in, and has fond memories of the area. "It's an opportunity to build something for the buyers, not the investors, which is rare in Toronto."
Designed by the award-winning team at RAW Design, the luxury condominium building will have just 35 residences and will be both modern and contemporary, while maintaining a timeless elegance. The building will have a distinctive exterior, characterized by a geometric pattern of large glass floor-to-ceiling windows, with a notable accent of an architecturally striking stone band reminiscent of marble running up the facade.
"The project is boutique in every sense of the word, from the luxurious palette of finishes to the level of design detailing – everything that best exemplifies the highest calibre of luxury in today's market," says Diego Burdi, creative partner at Burdifilek, an internationally renowned interior design firm.
While the building is in a prime location, it also offers the added incentive of units ranging from 1,000 to 4,400 square feet. "The suites have been designed with expansive south-facing terraces, tall ceilings, and generous rooms with open floor plans, well-suited for entertaining," says Roland Rom Colthoff of RAW Architects.
Ryan Rabinovich, vice-president, sales, said Freed gained a lot of market knowledge of what luxury buyers wanted — and that was size. One piece of feedback he gets from working with realtors is there aren't enough large units in the market. "They don't want to sacrifice the location, they just want to move without sacrificing the neighbourhood amenities."
Rabinovich and the Freed sales team anticipate interest from buyers currently looking to downsize from larger homes in nearby neighbourhoods like Forest Hill and Rosedale, who will find the large floor plans at 346 Davenport a welcome alternative to the majority of new condominium opportunities currently on the market.
Given 346 Davenport's location, the developer also expects to attract younger buyers as well, who will be looking for a distinctive address, in a location that is close to work, schools, and lifestyle options.
"It's interesting to see that although 346 Davenport may be the project with the fewest number of suites," says Mr. Freed, "It may be our project with the widest purchaser appeal."
What you get in the neighbourhood
Casa Loma, South Hill, Annex and Yorkville neighbourhoods, 346 Davenport is in close proximity to many of Toronto's finest restaurants, boutiques, and hotels, yet feels "a world away from the frenzy and commotion of the downtown," says Peter Freed.
Walkability: The Davenport and Avenue neighbourhood includes a walk, transit and bike score, and they all score in the nineties and up. Walkscore.com rates the neighbourhood with a 94 walk and transit score and a 100 biking score (All numbers are out of 100).
North
The majestic Casa Loma, Toronto's only castle. Home to weddings and a frequent movie location.
South
Yorkville with its world-class shopping, chic boutiques, five-star hotels and dozens of places to eat and drink. Hazelton Lanes is going through a rebrand to become Yorkville Village, adding updated retail to the neighbourhood. For fresh flowers, try the five little shops on the south-west corner of Ave and Dav where you can get a dozen roses for $12.
Within walking distance is the Royal Ontario Museum, The Gardiner Museum of Ceramics and Queen's Park.
East
The Rosedale neighbourhood with its green spaces, ravine and scenic walking trails and the Evergreen Brick Works with its farmers' market and the Don Mills Brick Works Park. Also east is the DVP for summer cottage getaways.
West
The historic South Hill with its parks, shops, fashion boutiques and cafes, and The Annex, an energetic, diverse and exciting entertainment, educational and shopping district.