The Star: Into the heart of the big city
Family-friendly living comes to condos at 346 Davenport
ELAINE SMITH SPECIAL TO THE STAR
Costas Kivelos and his wife, Jimmi Kazantzi didn't hesitate when they had the opportunity to purchase a 1,500-square-foot condominium at a new development, 346 Davenport.
"I've believed in this project since I first found out about it two years ago," said Kivelos, 41, a realtor with Right At Home Realty and father of 2-year-old twin sons. "There was a buzz at the opening launch party and it's still happening."
In fact, although 346 Davenport is still in the pre- construction phase, about half the units are already sold.
"When the site became available, it seemed like an obvious location for families who want to be downtown," said Peter Freed, president of Freed Developments, the developer and builder. "It's more of an upper-end location in the city. It's a small, boutique building. We're not catering to investors; we're focusing more on users."
The nine-storey, 70,000-square-foot building features 35 two- and three-bedroom condominium units ranging in size between 1,000 and 4,400 square feet and priced between $800,000 and about $4 million.
The units are open plan in design, with large outdoor terraces, and are attractive to both couples and families.
"You're seeing a renewed interest in larger units," said Roland Rom Colthoff, director at RAW, the building's architect. "There are very few detached houses available downtown and people increasingly are buying condos. With all the services available, it makes for a great lifestyle."
It is these buyers RAW had in mind in designing 346 Davenport.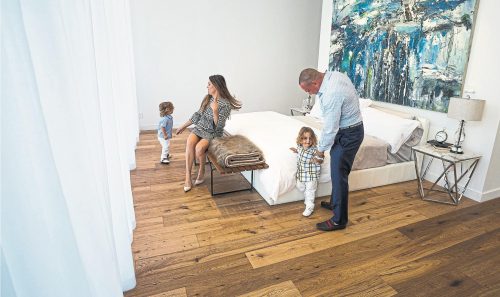 "We wanted to replicate a home as much as possible," Colthoff said.
"They are tall units and most have no bulkheads, so you get a clear, flat feeling. There is also a large outdoor space, the same as a single-family home, and most units have parking for two cars."
The suites themselves are appointed with high-end amenities. The kitchens have Miele appliances and contemporary European-style cabinets.
There are freestanding soaker bathtubs, frameless shower enclosures and natural stone countertops in the bathrooms. The rooms have floor-to-ceiling windows throughout and the wide plank, engineered hardwood flooring has an acoustic underlay.
About half the units have direct elevator access, providing additional privacy.
"The other residents could be on the moon, for all you'll know," Colthoff joked.
Although the building has a common lobby area, it doesn't have other shared amenities. "There are so many amenities in the neighbourhood and it's a small building, so we opted to keep maintenance fees lower," Freed said. "We just love the location, too; it's between Yorkville, Forest Hill and the Annex. The University of Toronto is nearby and there's transit and great restaurants. I feel lucky to have purchased the property."
Colthoff said designing condominiums downtown always offers architects a good challenge, because the sites are small and the goal is to provide each unit with a good view and access to natural light.
The design of the façade, however, is also very important.
"You want something with a sculptural quality that is visually intriguing, contributes to the streetscape and will stand up over time," Colthoff said.
"The façade for 346 Davenport uses high-end marble and quartz and has a curtain wall system at the front of the building.
It's an engaging form when viewed from the street and provides an interesting and warmer profile."
At 346 Davenport, the façade will also include plant material in a nod to the natural environment: A vine that should thrive between the stone panels.
Kivelos is more concerned with the interior spaces and terraces than the façade.
He, Kazantzi and sons Stavros and Panos will be downsizing from a custom-built 3,000-square-foot home elsewhere in the city.
"We only use 1,500 square feet of our house and the rest is storage," Kivelos said.
"The basement is filled with unopened toys. The transition won't be that difficult. Besides, we'll have a 680-square-foot terrace.
"It's a North American phenomenon to think that people need 3,000- 5,000 square feet," added Kivelos.
Kivelos chose 346 Davenport because of its downtown location, his respect for Freed Developments and the allure of a small "community" where he'll know his neighbours.
"When I heard about 346 Davenport, I started to do research," he said. "The price was fair, the quality of the product was good and there was the ability to sit down with the designers and fine-tune the design for the kitchen. It's more like buying a custom home, we have a say."
Kivelos, who spends part of each summer in Greece, likes the ability to "lock and leave."
He is also eager for the opportunity to live a more European lifestyle, with the ability to walk everywhere. "We can go shopping daily for what we need," he said. "We're right between four of the nicest neighbourhoods in the city, and everything is within walking distance. That's great, because Toronto is essentially becoming an island because of traffic congestion."